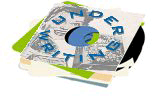 These are the many fine businesses that support KGLT, as Program Underwriters for a specific hour and as General Underwriters. Business owners: Add your company to this list by becoming a station sponsor.
General Underwriters
Alara Jewelry: A locally grown, nationally known jeweler offering innovative fine jewelry handcrafted by individual artists using recycled precious metals. Custom designs, repairs, appraisals and heirloom jewelry reproduction services available. Open daily at 42 W Main in downtown Bozeman or online at Alara Jewelry dot com.
Audio Artisans: Specializing in Stereo Hi-Fi, Turntables, Headphones, Private Theater and Home Automation. Showroom open Wednesday through Saturday at 2405 West Main Street, Suite 2. On the web at 'THE AUDIO ARTISANS DOT COM' or phone 406-551-6212.
Bagel Works: In Bozeman since 1991 with 14 varieties of fresh bagels, house made cream cheese and breakfast and lunch bagels. Open 6:30am-2pm daily at 708 West Main in Bozeman or phone 406-585-1727 for takeout. Menu online at Bozeman Bagel Works dot com. Full and part time employment available.
Bitterroot Brewing: Since 1998 in downtown Hamilton. Offering traditional, seasonal and specialty beers made with Montana grown and malted barley. Available in cans and on tap across Montana. Phone 406-363-7468 or on the web at bitter root brewing dot com.
Blackfoot River Brewing Company: An Independent Craft brewery in the heart of Downtown Helena. Open 2-8pm Monday-Thursday and noon-8pm Friday, Saturday & Sunday with indoor and outdoor seating and growler fills to go. Also at retailers in Helena, Bozeman, Missoula, and the Flathead Valley. Information at Blackfoot River Brewing .com.
Bomb Snow Magazine: Bomb Snow is Back! Montana's Mountain Culture publication, pulling the plug on corporate media malarkey since 2005. Bomb Snow is available 3 times per year at local outdoor shops and pubs across the Treasure State. On the web at Bomb Snow dot com.
Bozeman Brewing Company: Local brewers of Bozone Amber, Hopzone IPA and Gallatin Pale. Bozeman's original tasting room is open daily 2-8pm. Online at Bozeman Brewing dot Com.
Bozeman Fly Supply: A full-service local fly shop specializing in fly tying tools, materials and fishing gear. Open daily 10am-6pm. Located at 2621 W College and Main Street and online at Bozeman Fly Supply dot com. Everything to feed your vise.
Bozemans Tattoo Alley: Specializing in full custom tattoos. Open seven days a week, noon till 8pm at 260 E Main in Downtown Bozeman. Information on Facebook and at Bozemans Tattoo Alley dot Com. Phone 522-8287.
Bridger Bowl: A non-profit, community ski area since 1955. Offering scenic mountain facilities for fully catered summer weddings, parties and meetings. Information on ski passes for next season online at Bridger Bowl dot com.
Bridger Brewing in Three Forks: Now open for lunch and dinner Wednesday through Sunday with food, craft beers and cocktails. Bridger beers are now available at grocery stores and gas stations across Montana. 'Cheers to every journey being better than the last'.
Consignment Cabin of Big Sky: Big Sky's re-sale department store. Lightly used clothing, furniture, home decor and more. Open year round on the corner of Highway 191 and the Big Sky exit. On Facebook, Instagram, or phone 406-993-9333.
Country Bookshelf: A Bozeman indie bookstore featuring local and general interest titles with a friendly and knowledgeable staff and a lively event program. Open 9:30am -6:30pm daily and online at Country Bookshelf dot com. Located at 28 West Main Street in Bozeman.
CPR Cell Phone Repair: Same-day repairs for iphone, android, tablets and computers with a lifetime warranty. Also selling certified pre-owned iPhone and Samsung devices. Located at 200 South 23rd Ave in the University Square Shopping Center. Phone 406-581-1197.
Crazy Woman Massage Therapy: Elli Becker is an experienced massage therapist specializing in body alignment, injury prevention and recovery. Located in downtown Livingston and online at Crazy Woman Massage Therapy dot com - To keep you headed for the hills.
Create Construction: Custom home builders serving Bozeman and Livingston. Pleased to support KGLT and its supporters. On the web at Create Construction MT dot com & InstaGram.
Dahl Funeral & Cremation Service: Serving the Gallatin Valley since 1939 with compassionate, authentic care for all. Located at 300 Highland Boulevard in Bozeman and online at D A H L Cares dot com. Phone 586-5298.
Denny Menholt Honda in Bozeman: New Hondas, certified pre-owned Hondas and a variety of used cars and trucks online at Denny Menholt Honda dot Com.
Denny Menholt Honda in Bozeman: Featuring the newly redesigned 2023 Honda HR-V All-Wheel Drive sport utility vehicle. More information at Denny Menholt Honda dot Com.
Evolution of Balance: Gentle chiropractic care, Yoga therapy and laser therapy for pain relief and well-being. Accepted by major insurance plans and open to all. Phone 406-577-2742 or online at Evolution Of Balance dot com.
Explore Rentals: Bozeman's original 4WD car rental, camping gear, optics, fly fishing, and raft rental business. Helping folks with their Montana experiences since 2010. Online at Explore dash rentals dot com.
The Gallatin Yellowstone Wilderness Alliance: Protecting the ecological integrity of the Gallatin Range and other wildlands in the Northern Greater Yellowstone Ecosystem. Online at Gallatin Yellowstone Wilderness dot org.
Gardenwerks: Serving Helena since 1988. Garden Center, Design, Workshops and More. Located at 3225 Cooney Dr. or phone 442-5008. Online at Gardenwerks Dot Com.
Ghost Town Coffee Roasters: Locally roasted specialty coffee, coffee equipment, barista training and fresh food to go. Two locations at 104 Bridger Center Dr across from the Story Mill Park and downtown at 110 East Olive. Also at retailers throughout Montana. Ghost Town Coffee dot Com.
Happy Trash Can: Curbside compost service for your home, business and events. Servicing Bozeman, Belgrade and Livingston. Information and monthly subscriptions available online at Happy Trash Can dot net.
Harvest Solar: A locally owned solar electric company providing complete system design and installation, Electric car charging systems and emergency backup power. Tax incentive and integration consulting also available. On the web at harvest solar mt dot com or phone 570-8844. Harvest Solar: As Sure as the Sun Will Rise.
Hop Lounge: Upscale casual taproom and restaurant featuring a fire-roasted rotisserie chicken menu, vinyl records and 50 taps dedicated to Montana-made craft beers, ciders and wines. Open daily for lunch at 11:30am. Located in the Barn District off Huffine.
The Human Resource Development Council: Serving your community by responding to peoples needs with essential services. HRDC is an organization enhancing the quality of peoples lives through innovative leadership in community development. Call HRDC at 587-4486 for info.
JTech Communications: Serving the Gallatin Valley and beyond with custom websites, apps and digital marketing for businesses of all sizes for over 25 years. Online at JTech dot digital - or phone 406-586-7100.
Mackenzie River Pizza: Hand-crafted pizzas, sandwiches, pastas and salads. Featuring Happy Hour from 3-6 Monday through Friday. Online ordering at Mackenzieriverpizza.com . Locations in Downtown Bozeman, Belgrade, Butte and Helena.
MAP Brewing Company: The taproom is serving elevated, locally sourced pub food with mountain views and a Montana vibe. Brews available on draft and in cans throughout Gallatin Valley. On the web at MAP Brewing dot com, Instagram and Facebook. Every great adventure begins with a MAP.
Mellow Mood: Offering custom glass work and smoking accessories. Located at 7 Tai Lane in Bozeman, one block west of the Brick Breeden Fieldhouse. Open 10am to 10pm daily.
Montana Ale Works: Serving regional microbrews, locally-sourced food, natural Montana burgers and genuine hospitality. Located downtown on East Main Street and open daily at 4pm.
Montana Book Company: In downtown Helena since 1978. Offering adult and children's books, stationery, vinyl records and community activism. In-town delivery and shipping available. Online at MT Book Co dot Com or phone 406-443-0260.
Montana: The Magazine of Western History: Presenting historical research and stories on the west with photographs, art and illustration. Available online at montanahistoricalsociety.org, by phone at 406-444-4708 or at newsstands across the state.
Montana Reclaimed Lumber North: Antique Lumber for the public. Offering accent walls, wholesale bundles, hardwood slabs, mantels and more. Showroom and lumber yard located just south of Four Corners. Open Tuesday through Friday 8-5. Online at M T Reclaimed dot com.
Music Villa: Montanas music supplier. Open daily at 10am including Sundays from noon to five with online ordering and local delivery. Located at 539 East Main in Bozeman or on the web at musicvilla.com.
New Age Artisans: Specialists in Old World wall systems and finishes. Showroom located at 515 West Peach Street in Midtown Bozeman or phone 570-6199. On the web at new age artisans dot com and on Instagram @ New Age Artisans.
The Old Saloon in Emigrant: Roadside bar and restaurant established in 1902. Serving lunch and dinner, cold beer and good whiskey every day. Menu and music schedule online at Old Saloon MT dot com and on Facebook.
OnSite Energy of Bozeman: Designing and installing solar power and energy storage systems for homes and businesses across Montana. Locally owned and operated by nationally certified solar professionals committed to Montana's sustainable energy future. Information on services and financing on the web at OnSite Energy Inc dot com. The power is yours.
Opportunity Bank of Montana: A Montana-based community bank since 1922, with locations across the state. More information online at opportunity bank dot com. Member FDIC. Equal Housing Lender.
Outside Bozeman Magazine and 'The Outpost': A weekly email roundup and resource for activities, trails and tales of outdoor adventure in and around the Bozone. Information at Outside Bozeman dot com.
Real Food Market & Deli in Helena: Locally owned and featuring organic produce, bulk herbs, spices and teas. Also offering Kombucha on tap and Boar's Head meats & cheeses. Located at 1096 Helena Ave.
Red Tractor Pizza: A wood-fired, brick oven pizzeria featuring traditional and gluten-free artisan pizzas, breads and desserts with local organic ingredients. Now serving beer and wine. Live music weekly. At 10th and West Main in Bozeman. Online at red tractor pizza dot com and on FaceBook.
Root Cellar Foods: Regionally grown vegetables, fruit, grains, meat, dairy products, and more. Online market for delivery and pick up in Gallatin Valley, Big Sky and Livingston. Information and ordering at Root Cellar Foods dot com.
Rootbound Arborists: Providing communities with high quality tree care and dedicated to conservation of southwest Montana's urban & wildland forests. Information and sign-up for wood chip delivery online at Root Bound Arborists dot com or phone 551-5623.
Shine Beer Sanctuary and Bottleshop: 30 revolving craft beers on draft, wine on tap and a curated Bottle Shop with over 400 brews from around the world. Open daily at 11am. Located at 451 East Main in Bozeman and online at Shine Beer dot com.
Solstice Landscaping: Creating and maintaining native landscapes that celebrate the beauty of Montana in the Gallatin Valley, Big Sky and surrounding counties since 2002. Employment opportunities available. On the web at Solstice Landscape dot com.
State Farm Insurance Agent Sarah Skofield: Insurance & financial solutions to help you with life's good days and bad days. In Livingston at 125 South 2nd St, by phone at 222-1000 and on the web at Sarah Skofield dot com.
Steep Mountain Tea House: Offering hot & cold classic teas from around the world, homemade Chai Lattes, Bubble Tea & bulk loose leaf tea. Open daily from 9am-9pm. Located at 402 East Main in Bozeman and online at Steep MTN Tea dot com. Phone 577-2740.
Storm Castle Cafe: Serving up breakfast and lunch featuring their Hilltop 7 Farm products, Open Thursday thru Sunday 8am-2pm. Located on Tai Lane one block west of the MSU Brick Breeden Fieldhouse. A true Bozeman farm to table experience.
Straightaway Motors: Foreign and American auto repair. Now at their new location on the corner of 7th and Griffin in Bozeman. Phone 585-7112.
Studio Coffee Roasters: Serving fresh roasted retail beans and hand-crafted coffee drinks at their full service coffee bar on the corner of 11th and College next to Fedex. Online at Studio Coffee Roasters dot com.
The Attic in Livingston: Live concert venue with in-house sound and full bar. Also available for weddings, celebrations and more. Information and event schedule online at The Attic Montana dot com. Located at 110 North Main in downtown Livingston.
The Bozone: The areas entertainment and events calendar available twice a month. If its happening its in the BoZone. Updated events and information online at bozone dot com.
Community Food Co-op: Supporting our community. Co-op Apple a Day donates 20 cents of every bulk apple sold to a different non-profit. Online at bozo dot coop. Located at 908 West Main or 44 East Main in Bozeman.
The Plaza Bar: Three Fork's home town bar and casino for over 100 years. Cigars, draft beers, signature cocktails and Montana sports betting. Located at 204 Main Street in downtown Three Forks and on Facebook.
The Wax Museum: Bozeman's home of vintage sounds, at 533 East Mendenhall. Specializing in Rockabilly, Vintage R&B, Classic Country and more. Buying and selling used vinyl, CD's, and cassettes. Open Tuesday through Sunday. On Facebook and Instagram or by phone at 406-404-1617.
Valhalla Meadery: A craft winery producing local Montana honey wine and contemporary styles of mead. Tasting room and restaurant open 3 to 9 Tuesday through Sunday. Located at 875 Bridger Drive in Bozeman.
The Western Cafe: Established before most folks around here were even born. Open every day 6 am to 2 pm. Serving American style breakfast and lunch, famous for the Bobcat breakfast and chicken fried steak. Located at 443 East Main in downtown Bozeman or phone 587-0436.
Western Sustainability Exchange: Conserving Montana's open space, wildlife and supporting local agriculture while strengthening rural economies. Details online at western sustainability exchange dot org.
Whistle Pig Korean: Fresh, authentic Korean food with vegetarian, vegan and gluten-free options for takeout. Menu on social media or Whistle Pig Korean dot com. Located at 25 North Willson in Bozeman. Phone 404-1224.
Wild Joes Coffee Spot: A Downtown Bozeman coffee house offering locally roasted coffees and locally made foods. Open daily at 6:30AM Monday through Saturday and 7AM on Sundays. Located at 18 west Main and on the web at #BozemansLivingRoom.
The Windy Way Rock Shop: Celebrating the Beauty of the Mineral Kingdom with Montana agate jewelry, rocks & fossils from around the world. Also Himalayan Singing Bowls! Open Monday through Saturday 9:30am-5:30pm at 5237 US Highway 89 in Livingston.